Make jazz music education accessible and affordable for Arizona's youth
Thanks to our generous donors we have been able to fund jazz music education scholarships and sponsor travel, guest artists, and unique programs benefitting more than 500 middle & high school age children in Southern Arizona since 2012.
Several thousand school children (grades 3-12) have enjoyed jazz-themed SCHOOL SHOWS focused on jazz history celebrating legends like Louis Armstrong, Ella Fitzgerald, Charlie Parker, Duke Ellington, Billy Strayhorn and others.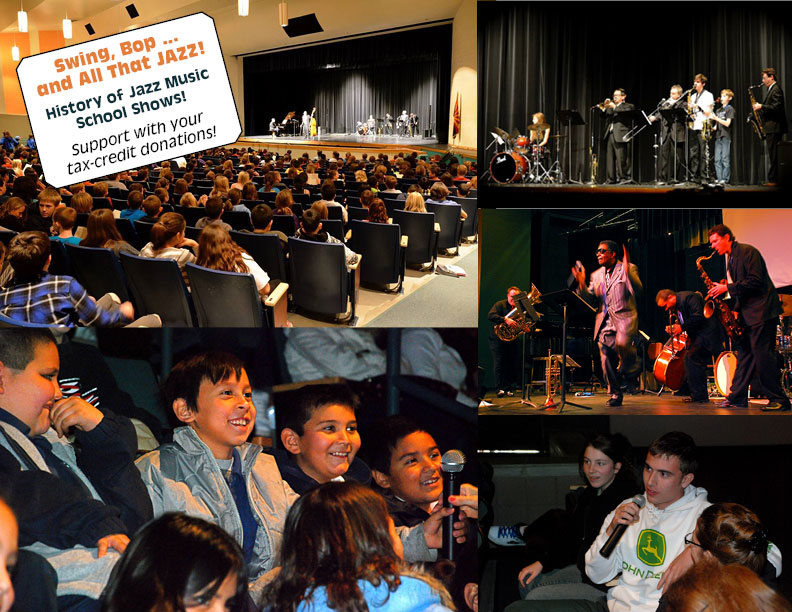 We accept donations and fundraise to sustain and bolster funds designated for tuition and travel to help disadvantaged children receive an outstanding jazz music education. We also sponsor students' group travel, guest artist master classes and residencies. In addition, we plan and sponsor unique programs and children's jazz-themed school shows in collaboration with school districts, professional community jazz musicians and dancers.
Enthusiastic audience members trust us to responsibly allocate their donations to those students in need of financial support. Sponsored clinicians advance the learning process and inspire 'practice.'
Scholarship recipients who achieve advanced skills benefit from these opportunities: personal interaction, mentorship, and performance with jazz legends; master classes, invitations to perform in local, national and international jazz festivals; and introductions to jazz department leaders in higher education.
We plan, organize and sponsor unique programs: GIRLS JAZZIN' IT UP SUMMER INTENSIVES in collaboration with Pima Community College Center for the Arts, and MUSIC TECH workshops with state-of-the-art equipment in collaboration with the Tucson Jazz Institute.
We collaborate with So AZ school districts, professional jazz musicians, and dancers to present jazz-themed school shows (grades 3-12) highlighting the global contributions of jazz legends and our culture.
Audiences that have experienced live performances by the Tucson Jazz Institute Ellington Big Band – the national multi-award-winning high school band that typically has 2-4 scholarship students – have become loyal fans and donors. Thanks to them we can publish these statistics.
Individual Tuition & Travel Scholarships
Annual Fans Attending Student Performances