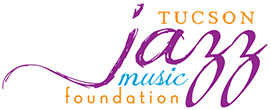 scholarships . sponsorships . presentations
The Tucson Jazz Music Foundation is a nonprofit 501(c)(3) organization. If you would like to contact us or subscribe to our "fan" list, email treasurer@tjmfdn.org or call 520-743-1349. Our address is PO Box 87736, Tucson AZ 85754.
The Tucson Jazz Music Foundation incorporated in January 2012 as a charitable organization in Arizona and has awarded more than $173,116 (as of 8/2022) in individual tuition and educational travel scholarships to middle and high school students in the Tucson Metro area (Pima County) and as far south as Nogales and Rio Rico (Santa Cruz County). The Foundation has also sponsored more than $63,810 (as of 8/2022) in travel expenses to jazz festivals and competitions in Arizona, California, Louisiana, and NYC. Generous private gifts have enabled us to provide free and open to the public guest artist clinics, performances and residencies totaling $20,500 (as of 8/2022). We also sponsor jazz-themed school shows to inspire and teach children about jazz and jazz legends, and to help educators with lesson plans.
We sincerely thank our most generous donors and fans for making this possible and participating in our mission.
The Foundation would like to create a community where outstanding music education is accessible and affordable for the enrichment and entertainment of its citizens as well as for the continuation of jazz music – an American innovation.
The primary mission of the Tucson Jazz Music Foundation is to fundraise for tuition and travel scholarships for Arizona's youth for music education. In addition, the foundation will sponsor master classes, lectures, demonstrations and music education programs for the general public.
The Tucson Jazz Music Foundation Board of Directors will act with the utmost of integrity, empathy, and generosity on behalf of the Tucson community and beyond. We will honor the charitable intentions of our donors to meet current and future needs and will hold ourselves to the highest standards of ethics, integrity, service and fiduciary responsibility. Our actions will be in compliance with IRS 501(c)(3) nonprofit guidelines, rules and regulations for charitable and educational community foundations and we will act without discrimination based on age, race and national origin (ancestry), color, gender expression and sexual orientation, beliefs, marital status and disabilities, in any of our activities or operations.